I love motorcycling.
It's a love that came to me later in life. My brother (pictured) has always loved motorsports – boats, cars, jet-skis, and mostly, motorcycles. It took a long time to rein me in, but I finally caught the bug, and it will likely never leave me.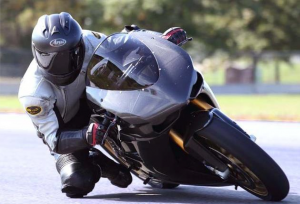 When I first started riding, I was encouraged to take a motorcycle safety course sponsored by ABATE of Indiana. In 3 days, the instructors there drilled into us the how-to's of safe motorcycling. I loved it!
A principle that I learned early on was the discipline of turning my head and looking into a turn. In motorcycling, where your head goes, your bike will follow. Our natural inclination is to look down at where we are, but to be safe, we must turn our heads, not just our eyes, and look where we want to go. I must have heard "Turn your head!" a thousand times during the class.
One of the most dangerous things about riding a motorcycle is something called "target fixation." Essentially, the rider sees an obstacle, and focuses on it. "Don't hit it, don't hit it, don't hit it." And the rider almost always hits it. Remember, where the head goes, the bike goes, and if the head is looking at an oncoming car…well…disaster ensues.
This same principle, however, can also work in in my favor. If I focus on my line and where I want my motorcycle to go, that's where it will go.
The same is true in my life. If I fixate on the obstacles I face, I will likely hit them head on. But if I can focus on where I want to go, I will almost always avoid the very obstacles that are freaking me out.
In my case, as a follower of Christ, HE is my target….I want to be more like Him. The beauty of it is that the Bible gives me a terrific verse outlining where my target is to be fixed….in a positive way: "Let us fix our eyes on Jesus, the author and perfecter of our faith, who for the joy set before him endured the cross, scorning its shame, and sat down at the right hand of the throne of God."(Hebrews 12:2)
Perfect.
Comments
comments
Powered by Facebook Comments