For over two years I had pined for it, asked for it, and maybe even begged for it, so when my parents gave me a guitar for my 21st birthday, I couldn't have been happier. I remember gently removing it from its case and admiring its beauty. The grain of the wood, the smooth feel of the neck and the beautifully inlaid mother of pearl on the fretboard clearly illustrated the care of the luthier. I was overjoyed by the gift. For years, that first guitar was a source of creativity, rest and comfort in the dark places.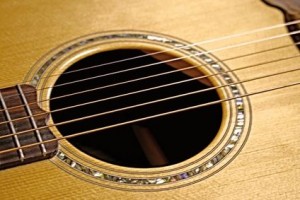 Recently, I got to thinking about the luthier that crafted my guitar. The skill demonstrated was obvious, but I also recognized that he or she built it for a specific purpose – to make beautiful music. In some small way, as I progressed as a guitarist, I was bringing glory to its creator.
There are, of course, other uses for my guitar. It could easily be used as a hammer, an oil pan or even a tennis racquet. I'm not suggesting it would work well in any of those capacities, but it could be adapted to serve those purposes. But why?
I'm not sure why I was thinking about my guitar being an oil pan, but about two weeks ago, someone asked me a simple question. "Why were you created?" I thought for a minute, and then it dawned on me.
I am my guitar.
Though created by the Luthier to make beautiful music, I often make choices that repurpose His intent. I am that hammer or oil pan in the shape of a guitar. I'm not at my best when I'm repurposed in this way, and I am in no way reflecting the intent of the Luthier.
Why do I do it?
Because I think I know better. I think I can out-think my Creator, and be something I was never really created to be. As I'm getting older and life humbles me, I'm finding more comfort in living out the Luthier's purpose, not the purposes of others. Or even my own.
How about you? Why were you created?
Comments
comments
Powered by Facebook Comments